Üreticiler
Winsmith Single Reduction Flanged For Hydraulic Motor Speed Reducer
8MHCV
Winsmith
| | |
| --- | --- |
| Marka | Winsmith |
| Ürün | Single Reduction Flanged For Hydraulic Motor Speed Reducer |
| Ürün Kodu | 8MHCV |
| Artikel | - |
| Ülke | United States (US) |
| Durumu | Yeni / Kullanılmamış |
Teknik Bilgi
C-Line – Right Angle Speed ReducerC-Line is the most complete right angle gear speed reducer line available with more than 13 million configurations.GENERAL FEATURES • Per AGMA Standard #6034-892 • Each unit is test run. • All units factory filled with oil to the proper level, ready for service. • External grease fittings allow for additional lubrication to the pre-packed bearings above the oil level. • Fill, level and drain plugs appropriately located. • More than 13,000,000 standard reducers are available - all of which can be customized to suit your special application.Housings and CoversClose grained grey cast iron. All blind tap holes prevent leakageGearsChill cast or forged bronze .Output ShaftHigh Tensile Steel.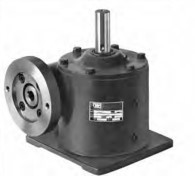 Hızlı Teklif Al
Dünyanın Her Yerine Tedarik
Bize 7/24 E-Posta gönderebilir veya Canlı Destekten Sorularınızı Sorabilirsiniz.
İmtek Mühendislik Ltd .Şti. Yurtiçi ve Yurtdışında ihtiyaç duyulan teknolojik malzemeleri elektronik,hidrolik, pnömatik sistem yedek parçalarını en hızlı şekilde tedarik etmek amacıyla 2001 yılında Adana'da kurulmuştur.
Türkiye' nin Her Yerinden
444
48 19

+90 506 875 44 15